Andrei Codrescu,
Our 2022 LiVE Mag!
Lifetime Achievement Honoree.

Image: Andrei awarded,
May LiVE #18 Launch,
Howl Arts Space,
NYC.
To find you
The wave of your hand
At the end of an exchange
Set in motion by an evolution
Of places suddenly by a turn

Of events I am the woman
Staggering across the street

From "Revolution" by Elizabeth Guthrie
And in the raging contagion
of the yoked hurrah
we are riddled in thick drift
and drunk with iniquity—

asking whose balletic thirst
is clasped
in the synonymy

From "EICHA IV:..." by Adeena Karasick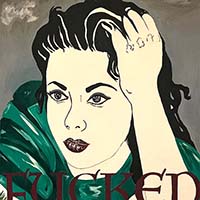 clockwise from top-left:
Current #18 issue
,
Kathe Burkhart
,
Chris Lee
,
Tamara Gonzales
.