Join Live Mag! and #18 contributors at
Howl Art Space, NYC, 7pm, 5/13/22.
Featuring Andre Codrescu, with poets
Ama Birch, Elizabeth Guthrie,
Bob Holman, Vincent Katz.
Art by Gail Thacker and Luigi Cazzaniga!
To find you The wave of your hand
At the end of an exchange
Set in motion by an evolution
Of places suddenly by a turn

Of events I am the woman Staggering across the street

From "Revolution" by Elizabeth Guthrie
It all came back, so very clear, rushing
Towards him! He turned his back as the wave
Broke over him, & swept him out to sea.
Draw this, he said. Draw this poem, I ordered.

What a drama! Harder than walking on water even

From "Awaiting the return ..." by Bob Holman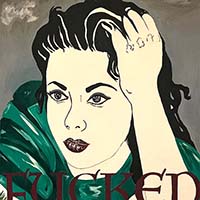 clockwise from top-left:
Current #18 issue
,
Kathe Burkhart
,
Chris Lee
,
Tamara Gonzales
.